A commitment to Patient Excellence and Improving Patient Care: What inspires and motivates Dr. Brandon Berman, DDS, of Easton Family Dental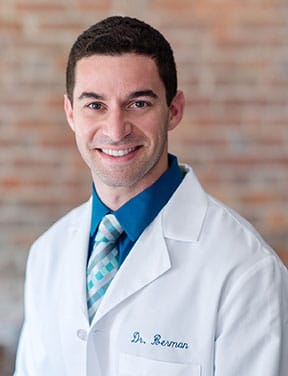 Every month, we review hundreds of businesses throughout our local community and narrow it down to one leading organization that is making a significant impact in their industry to be featured in our Better Your Business Spotlight. This spotlight is part of the Better Your Business Series, a growing local initiative with a core focus of bringing like-minded business leaders and entrepreneurs across multi-industries to engage on topics, share insights, as well as motivate and inspire other leaders to continually strive for growth and improvement within their business. The BYB Spotlight is a unique opportunity to jump behind the curtain and meet leaders that are truly making an impact in their industry and learn what inspires them.
This month, we interviewed Dr. Brandon Berman, DDS, the Owner of Easton Family Dental
This month's featured spotlight article brings us to Easton, Maryland, an idyllic small town nestled in Talbott County known best for its lined buildings that evoke a Colonial and Victorian charm and for being voted the 8th Best Small Town in America, where we meet Dr. Brandon Berman, DDS, the owner of Easton Family Dental.
Easton Family Dental has over 25 years of experience providing preventative care and patient education to promote a healthy smile for life for the community of Easton and surrounding areas. When Dr. Brandon Berman, DDS, transitioned into ownership of the dental practice when his predecessors retired, his focus and commitment to uphold the level of dedicated and passionate care that his patients have grown to expect from Easton Family Dental over the last three decades was a large focus for him.
With Dr. Berman's comprehensive dental background, paired with his advanced surgical and general training he received during his residency at the prestigious Albert Einstein Medical Center Philadelphia Department of Dental Medicine, he is committed to providing patients with the highest quality dental care in a comfortable and relaxing environment, with the latest dental research and technology.
Dr. Brandon Berman shares how his core values and commitment to providing the highest level of patient care are leading key drivers in helping further develop him into the leader that he is today.
When Mentors Leave a Lasting Impact
One of the largest benefits to professional development is when you can pair your passion for growth with a mentor to help you navigate the many trials and tribulations of growing into a career that you'll thrive in. For Dr. Berman, he discovered that mentorship during his year of residency at the prestigious Albert Einstein Medical Center Philadelphia Department of Dental Medicine, where he met Paul Goodman. Dr. Berman, DDS, recalls how Paul Goodman mentorship impacted him,
"When I think back to a person that has had the most impact on the leader that I am today, Paul Goodman comes to mind. I have the good fortune of calling Mr. Goodman both a mentor and a friend, from my days back in residency."
Success Centered Around Values
As Dr. Brandon Berman, DDS, has grown into leading his successful dental practice, we wanted to better understand how his core values influence the way the Easton Family Dental team delivers consistently on his desired outcome for his dental patients.
Dr. Berman, DDS, shares some light on the impact those values have on his practice,
"When comparing the importance of Mission, Core Values, or Vision, I feel as though Core Values is the most important when leading your team towards success. With Core Values, these ultimately drive the overall mission and help us direct our vision"
In fact, the culture of his growing dental practice is one area that he is most proud of when he thinks about his team,
"Developing a culture of compassion and excellence is something that I've made a commitment to fostering—It's something that I am really proud of because not only does it impact our culture, it extends outward to how we treat our patients with compassion and excellence. It's built into the fabric of our entire team and our patient care is an extension of this."
Technology Improves Patient Diagnostic Capabilities
Since taking over Easton Family Dental, Dr. Berman has invested in the latest technology and training in order to provide the best dental care for his patients. Being a leader in an industry that is evolving with new technology, Dr. Brandon Berman, DDS, attributes the success of his dental practice to how he approaches technology in his organization,
"The largest impact that technology has had on our dental practice is that it has allowed for us to improve the diagnostic capabilities for our patients. It has allowed for us to diagnose conditions that affect the mouth, teeth, gums and jaws, as well as develop the most effective treatment plan with our patient's best interests in mind."
Staying the Course for Success
One of the largest takeaways that we love with this Better Your Business series is giving leaders like Dr. Brandon Berman, DDS, an opportunity to share advice that can help shape the path for the next wave of leaders that are working hard at developing professionally. He was kind enough to share with us what he feels holds many leaders back from achieving their highest potential,
"One of the biggest challenges facing leaders today is doing what's right, even when it's hard. When it comes to developing yourself as a leader, it's important to practice what you preach. Don't hold your team to a higher standard of excellence than you do for yourself. Show them through demonstrating that level of excellence, commitment, and determination."
When asked what common mistake he sees leaders making, he shared,
"Leaders aren't perfect and it's humbling to know that we all have areas to improve. One mistake that I witness leaders making more frequently than others is losing sight of the long-term objective when trying to tackle those smaller, short-term hurdles. It's easy to lose sight, but it's important to keep on course, even when those short-term difficulties or challenges arise. "
Learn More About Easton Family Dental
Easton Family Dental has been providing preventative care and patient education to promote a health smile for life for the community of Easton and surrounding areas for over 25 years. Led by Dr. Brandon Berman, DDS, the practice delivers both general dentistry, as well as additional specialty services in-house that other offices may not be able to provide, including placement and restoring dental implants. This expanded scope of service offerings provides enhanced patient care, backed with a compassionate team committed to delivering beautiful smiles and optimum dental wellness.
You can learn more about Easton Family Dental by visiting them online at www.eastonfamilydentist.com.